Apollo, Irish Goldendoodle from Indianapolis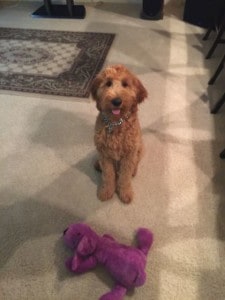 Apollo is doing great!  He's almost 50 pounds of energetic fluffy puppy. Loves the family, and he's settled in wonderfully. The cats still aren't sure about him, though.  His retriever side is strong, he would love to spend all day fetching toys and balls from across the room or across the yard.
Thanks for a wonderful addition to our family!
—Trey and Kristi from Indianapolis