Goldendoodle in Wisconsin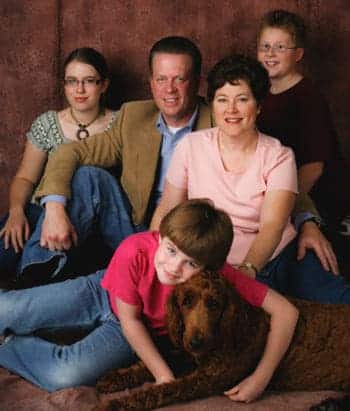 I hope that this December finds you well.  Today, December 14th, is the first birthday of the Irish Goldendoodle known in your records as "Sally", but who became "Sophie" when she arrived at our home in Wisconsin.   When we were searching for a puppy, there were a couple of things that stood out to us about your business – First, the easily understood explanations of the genetics involved that can be found on your web site.  Secondly, the beauty of the animals themselves.  
Another thing that stuck in my mind, though, was the testimonial letter from a lawyer (Maggie in Iowa).  Being a lawyer myself, I made a mental note to send you a testimonial myself on Sophie's first birthday, just to let you know how she's doing.
She is absolutely delightful!  I work from home and she is with me most of the day.  Due to some unfortunate circumstances, we weren't able to do formal training this past summer as we had planned, but she has responded wonderfully to training with me here at home – which we attribute all to her being so smart.   She knows: come, sit, lie down, up, off and sit (for use if she is up on something), stay, pen (for sending her to her kennel), car (as in "get in the"), go in/out (of the house), go potty, go poopy and heel.  She also responds to hand signals for sit, lie down and stay.   She responds to a finger snap and point when you want her to come.  She responds to a soft whistle.  When I get dressed to go to court, she knows I'm going and goes directly to her kennel and lies down on her own.   We have a crushed gravel path around our property, and she respects that as her "fence".  If she should go a little past it, the command "path!" sends her back inside the perimeter.  This is one very smart dog.
She is litter box trained.  In the morning and early evening, I take her out to the garage, where she does what is needed.   It is so nice not to have to walk a dog outside in our often questionable Wisconsin weather.   Solids are scooped up and disposed of in the toilet.  The dog litter deals with the liquids and we clean out the box once or twice per week, as needed.   We installed a dog door in the door between the house and the garage so she can go out on her own, but she discovered that she needed a human present in order to be acknowledged for her accomplishments, so she comes and gets one of us to personally witness the feat.
As is often mentioned by others on your site, the coat is unbelievably soft.  After people comment on her beautiful color, the next thing they mention is how soft she is.  She doesn't have that "dog smell", and doesn't need to be bathed nearly as often as we might have expected.  
She has grown to 65 pounds and appears to be staying there.   She is completely healthy and happy.  She is a celebrity at the vet's office, where the staff just loves her color, her soft coat and her delightful behavior.  (They tell me that she's actually very well trained for a 1 year old, so I must be doing something right…)
She loves to play with the kids, and comes into my office to enforce break times when she decides I've been sitting at the computer too long.   She will chase a ball endlessly and loves to race and be chased around.
Before our purchase, we asked you about concerns that the Irish Setter component might make for a high-strung dog.  You assured us that the Irish grandparent worked as a therapy dog and that you wouldn't breed the Irish Goldendoodle if they weren't wonderful dogs.   Sophie has done you proud.  She is as gentle as can be.  If one is concerned about something she is eating, you can open her mouth to get it out, even if it's her favorite food.  She complies with the vet poking and prodding her in examinations.  She rolls with all the "loving" that little kids can dish out.   She is always pleasant and affectionate.  She warns us about people approaching the house but, once introduced, she is everybody's best friend.   From the beginning, I have taken her with me to pick up the kids from school, and she is loved by all the children – not to mention the teachers and other parents.
Sure – she's only a year, and gets a bit less, shall we say, "compliant" with commands when new friends or other dogs appear, but she is learning more and more with each day.  We hope to get enrolled in a formal class this spring.
My wife was not a dog person.  She really had to be sold on the idea of buying a dog, something our kids actually did do by means of repeated PowerPoint presentations  (long before the recent Microsoft commercials came out showing a kid doing the same thing).  Now, Karen is Sophie's biggest fan.  It is impossible not to love this dog.
Sophie is a wonderful and beautiful dog.  She is a member of the family (picture attached) and it is hard to believe there was ever a time when she wasn't here.   Thank you so much for providing such a wonderful animal.  It was truly a pleasure doing business with you, and we are grateful every day that we have her here in our home.  We would recommend you and your animals to anyone.