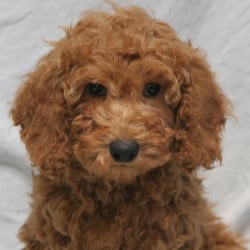 About Sunshine Acres Moyen Poodle Puppies for Sale
Our puppies will be friendly puppies with a trainable, people focused type of temperament.  Their curly, hypo-allergenic, non-shedding coats are a gorgeous red color. Expected adult size will be 25-30 pounds.  They would be the best choice for a family that has dog allergies.  All of Sunshine Acres moyen poodle puppies are a gorgeous, dark red color, red, or a rich apricot.  In the direct sunlight, they look like a shiny new penny, in the shade, a deep mahogany color.  These rare, hard to find colors are our favorite! You will find moyen poodle puppies for sale on our doodlepuppy website [click here].
Natural Poodles, Moyen Poodles, Wagendoodles, What are they?
As Natural Poodles, our puppies are genetically purebred Moyen poodles.  By their Doodle grooming and leaving their tails intact they have the appearance of an F1B Goldendoodle with the same people-loving, social temperament.  We have began to adopt the term, Wagendoodles for our Moyen Poodles.  If you would like to learn about our process for reserving and choosing a puppy, see our process button at the bottom of this page.  If you would like to go ahead and reserve a puppy from this or a future litter, please fill out our online application or email us.
Moyen Poode Male @ 8 weeks
Moyen Poodle Male – Sold
Sunshine Acres Past Puppies



Moyen Poodle versus Minigoldendoodle
Do you have allergies?
This is the dog for you!  But who wants a poodle?  The Sunshine Acres Moyen Poodle, or Wagendoodle, is a perfect fit.  They look exactly like a minigoldendoodle, but come with true assurance they are hypoallergenic for hair and dander allergies.  The Wagendoodles are clean and prefer to keep it that way!
Do inconsistent sizes scare you in the minigoldendoodle?
Not the Wagendoodle.  Our moyen poodle puppies for sale do not have an 80 pound golden in their background.  Rest asssured, they will stay small, yet look doodley and just exactly what you hope for in your minigoldendoodle.
Are you concerned about personality?
You will find these well socialized puppies to be easily trained, smart, fun-loving, and eager to please.  These puppies will incorporate into your family and cherish being a part of your circle.  They want to be family…
Although, they are moyen poodle puppies, we place our bets that you will talk to them like a best friend or a wonderful child!